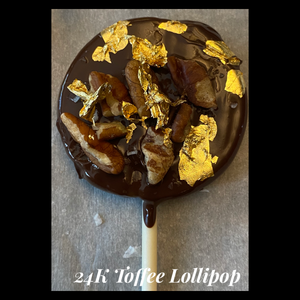 Janlitlfeather Gourmet
Toffee Lollipops
Regular price
$15.00
$0.00
Unit price
per
Our most popular Toffee Lollipops  with dark chocolate, pecans, sea salt flakes and 24k flakes. You get two lollipops. One small and one large.  
Beautiful and tasty
These are a great gift--for the eye and the palate!
Toffee POPS!!!
OMG!!!!!! WELL DONE!!!!!!!
You guys should be preparing for your own 2020 version of Chitty Chitty Bang Bang's toot sweets
Or for a new Willy Wonka candy !!
---