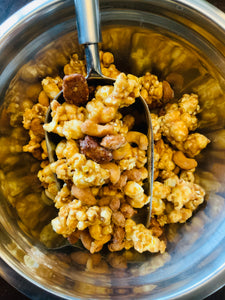 Janlitlfeather Gourmet
Toffee Nut Trio
Regular price
$55.00
$0.00
Unit price
per
Our most popular Toffee Popcorn with Butter peanuts, Pecan pralines and Honey roasted cashews. 
- Sold in packs of 3.
- Made in small batches.
Best Popcorn Ever
You will not be able to put this popcorn down. Everything that you want in a treat is what you get with Janlitlfeather Gourmet. It's a perfect balance of rich and tasty with a lot of variety. You are going to want everyone to have some.
Them corns is Banging!!!!!!
Outstanding snacks of all time!!!!
Well done and packaging is amazing too !!!!
Enjoyed every crunch!
This popcorn has the best flavor!! I love it!
---