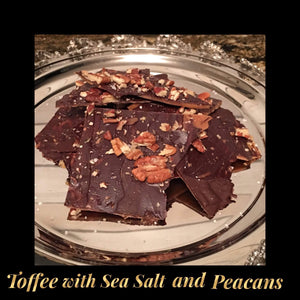 Janlitlfeather Gourmet
Tasty Toffee Bark with Sea Salt and Pecans
Regular price
$15.00
$0.00
Unit price
per
This is where it all began. Tasty thin buttery toffee with luxurious dark chocolate, pecans and a touch of  Pink Himalayan sea salt.
Toffee Bark
Toffee Bark was outstanding! I gave all of the popcorn, toffee and caramel popcorn as gifts and I have heard nothing but good things. Love it!
Excited my Taste Buds
If you don't try this, you are missing out.
---